The ruins of Nunney castle can be found, obviously enough, in the town of Nunney in Somerset.   The castle was built in 1373 by Sir John de la Mere who had fought in France during the Hundred Years War, he returned to England with a large amount of money and applied to King Edward III for permission to build the castle.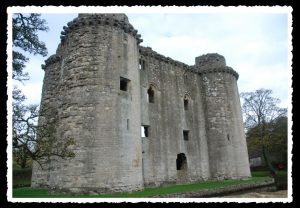 Nunney castle was built more as a fortified manor house than a military stronghold and is quite small and compact compared to many other castles.
It has a very symmetrical design with large round towers in each of the four corners and the style has a strong French influence.
The castle was surrounded by a wide, deep moat, which still surrounds the castle today so if you visit the castle you need to be aware of this potential danger area.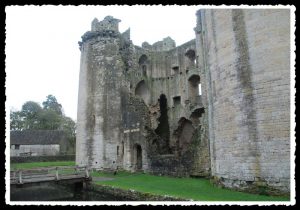 The interior is accessed via a wooden bridge over the moat, although when built this would have been a drawbridge.
Today the castle is an empty shell and there isn't anything left  of the original interior but looking up at the walls you can see where the beams that supported the floors were as well as some doorways,  fireplaces and chimneys.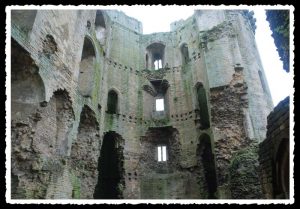 The castle had three floors the kitchen along with the other services was on the ground floor with the great hall for entertaining guests on the first floor, the second floor was the living area for the owners of the castle.
In the 16th century the some major changes were made to the castle which included larger windows and a grand spiral staircase in one of the towers.  If the windows we can see today are the enlarged ones then the originals must have been small indeed so the inside of the castle was probably fairly dark.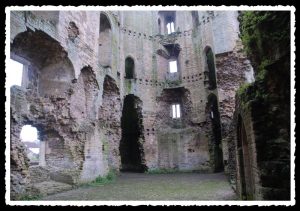 The English Civil War was the only time the castle came under siege when it was besieged by Parliamentarian forces and despite its appearance of strength and its thick walls the siege lasted just three days when a cannon ball fired from the hill above the castle penetrated one of its walls.  The castle was built on low ground because the nearby church already occupied the high ground.
There were two reasons why I visited Nunney castle, one was because I enjoy visiting places like derelict castles and other structures the other being the fact that the name Nunney Castle was carried by the Great Western Railway castle class locomotive number 5029.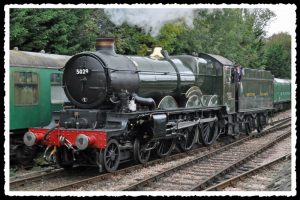 Built at the GWR's Swindon works in 1934 the locomotive was withdrawn and scrapped in 1963, but this wasn't the end of the Nunney castle story, the loco was rescued from the scrap yard in 1976 and restored to main line standard in 1990 and could be seen in action on several heritage railways as well as working rail tours on the main line.  The locomotive is currently under overhaul and expected back in action in 2018.
More pictures of my visit to the castle can be found here