I sometimes wonder if we railway photographers take ourselves and our hobby a bit too seriously.  We go to great lengths to pick just the right location and just the right angle, we worry if the sun is in just the wrong place and we sometimes get annoyed about the guy who walks into our carefully composed shot waving his ipad around.  Or the two retired engineer types who stand on the edge of the platform at the front of the loco and discuss the finer points of cylinder and valve gear arrangements.
Although it has to be said that one of the interesting things to watch while waiting for the steam specials to leave London Victoria is the stream of passengers queuing up for their turn to take a souvenir photo of each other standing by the loco, there's also those who think they'll get a better looking photo if they sit on the buffer beam.   At some point in the day the ladies will discover that sitting on a part of the loco that the footplate crew have walked over does not do a great deal for their light coloured dresses!
But can we not have some fun with our railway photographs?
Is it against some rule that gricer-photographers must take serious photographs?
I don't think it's against any rule to have fun with our photos, so I got to thinking what would locomotives think about if they were sentient.  This is hardly a new thought, after all, Thomas and Ivor have been doing it for years and years.
So here are two pictures from a series I created on the theme of If Engines could talk.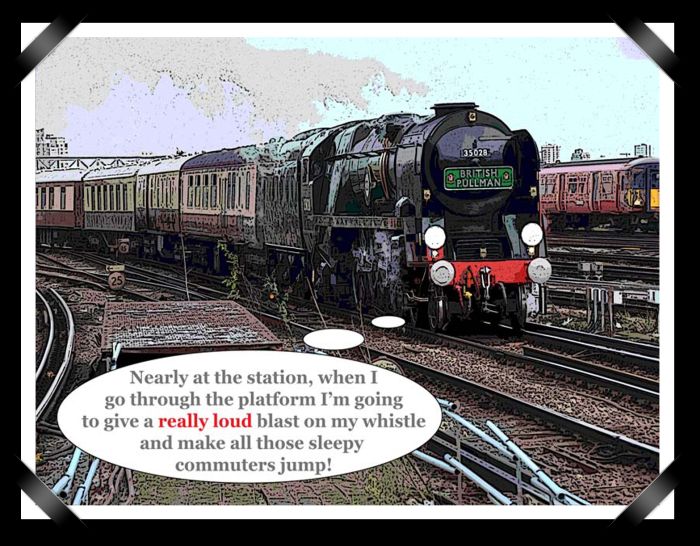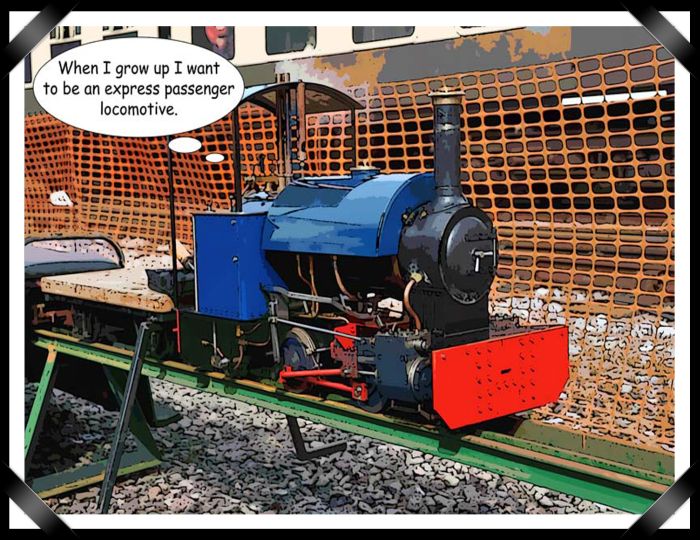 The rest of the series can be found Here.
The photos were created using the Comics action from PanosFX.