Ask the "ordinary man in the street" (whoever he might be) to name a famous steam locomotive and the answer is almost certainly going to be Flying Scotsman.  Between the 13th & 19th of April 2017 the loco visited the Bluebell Railway where, on Easter Saturday I  had the opportunity to enjoy a ride behind her and was also able to take some photographs her at Sheffield Park, Horsted Keynes and East Grinstead.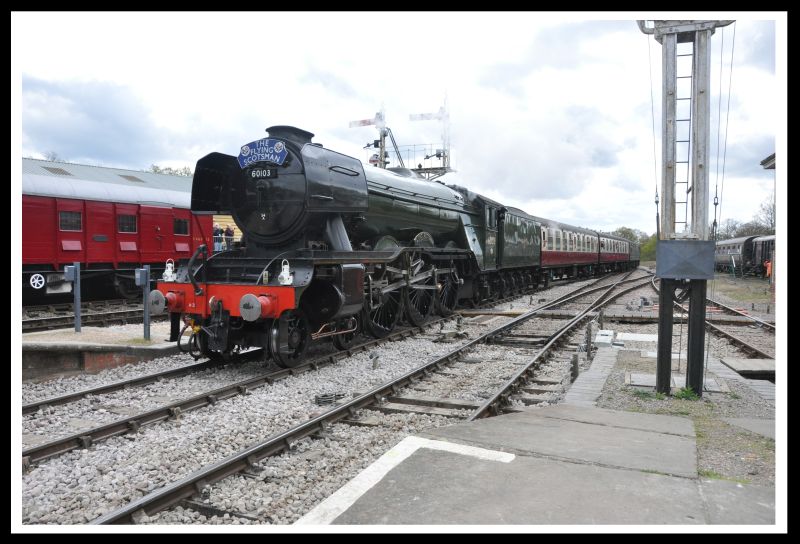 The Flying Scotsman is one of the most famous locomotives in the Britain, and probably the world.  Designed by Nigel Gresley and Built at Doncaster works in 1923 and named Flying Scotsman after the unofficial name of the 10:00am departure from Kings Cross to Edinburgh.  In May 1928 the locomotive was selected to haul the first non-stop run from Kings Cross to Edinburgh a distance of 392 miles.  One of the features of the loco was a corridor through the tender which meant that a relief footplate crew could travel in one of the coaches so the train didn't have to stop to change crews halfway this made long distance non-stop runs possible.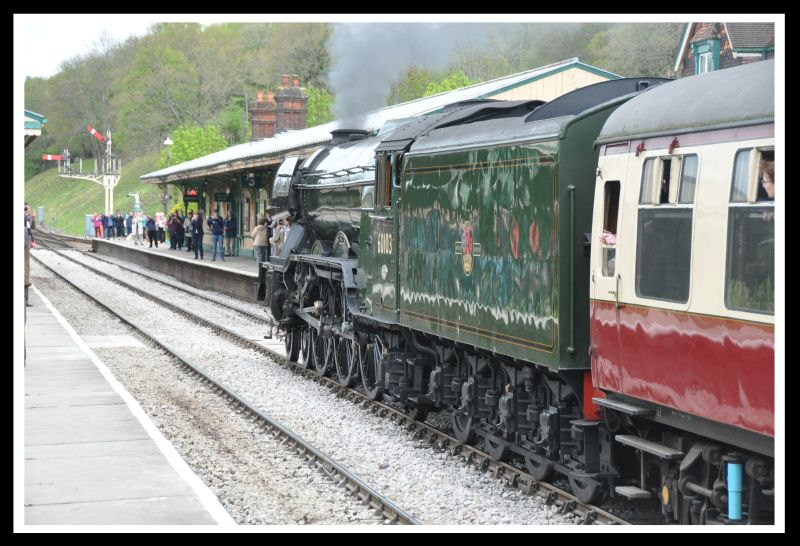 In London North Eastern Railway days Flying Scotsman carried the number 4472 and this is the number that many remember the loco by, the number it carries today, 60103 is the number British Railways gave it after the railways were nationalised.
In 1934 Flying Scotsman became the first locomotive to be officially recorded as travelling at 100mph, however, there are some other locomotives with earlier claims to that title that haven't been officially recognised.
In 1963 the loco hauled its last train for British Railways and was destined for the scrap yard, it's hard to think why a loco with such a record would not be chosen for preservation but the British Transport Commission  decided that there was only room for one Gresley pacific on the list of preserved locomotives and A4 class no. 4468 Mallard, the world's fastest steam locomotive, had a better claim to preservation.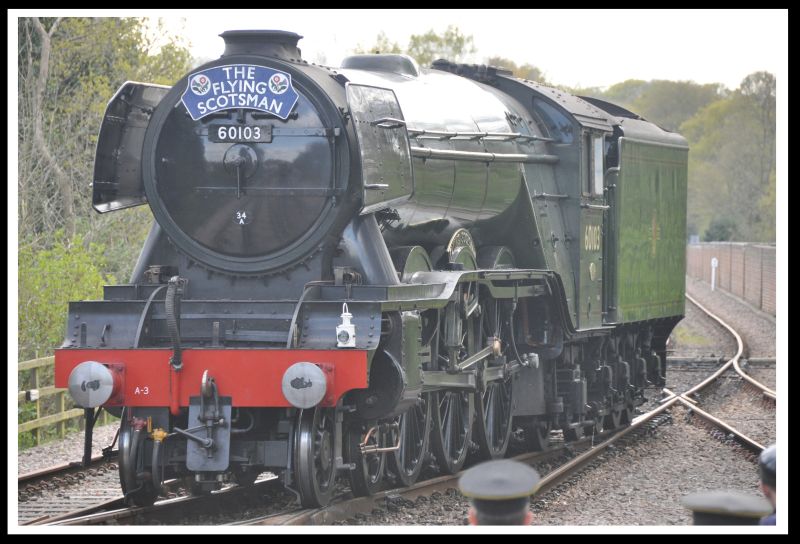 The loco was saved from the cutter's torch by Alan Pegler who purchased it directly from BR and set about having it overhauled and restored to its LNER apple green livery and 4472 number.  The Flying Scotsman has travelled around the world to American and Australia for various enterprises, some more successful than others, eventually the loco returned to the UK and has passed through several owners until it was finally purchased by the National Railway Museum.
I was fortunate enough to see the loco a couple of times during its return to steam railtours in 2016 following an extensive, and expensive, restoration project.
There are a number of photographs of my visit to the Bluebell Railway on April 15th 2017 on my website, along with some of photos of the loco on the main line in 2016.
Flying Scotsman on the Bluebell Railway.
Flying Scotsman on the main line.