During the August Bank Holiday what is generally referred to as the World's Most Famous Locomotive, LNER A3 no.60103 Flying Scotsman, visited Didcot Railway Centre, then two weeks later the locomotive visited the West Somerset Railway for a few days and the railway organised a programme of special trains.

I went to Didcot on the Saturday and was able to get a ride behind the Scotsman, the rest of the day was mostly spent at the side of the main demonstration line taking video and still shots.
This is the video I made of my visit.
Some of my photographs can be found on my website here.
I was not able to get a ticket for any of the West Somerset Railway's specials, but I did manage to get along to the railway for the final two days to see it.
The first day I headed out to Watchet station, the day didn't start out well because I'd only just parked the car when it started seriously raining! Thankfully the storm didn't last long so I set off along the footpath alongside the railway and choose a spot partway down a slope with a good view of the line. I was very glad my tripod has a spirit level built in as being on a slope all three legs had to be set to different lengths so getting the video camera level would have been quite a challenge.
After a short while Flying Scotsman let its presence known and I started the video and left it to its own devices while I took aim with the DSLR and was able to get some good shots of the locomotive as it came round the curve towards Watchet station, of all the video I shot over the two days I think this was the best video footage I took.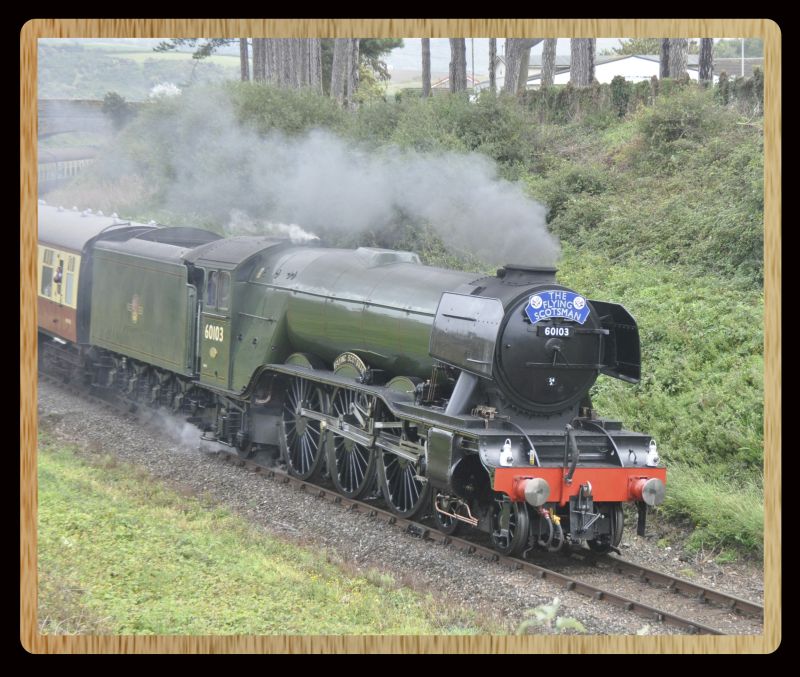 On the second day I intended to go to Crowcombe Heathfield but I missed the signpost to the event car park. When I realised I'd gone too far along the A358 I started to look for somewhere to turn round but shortly after I saw a sign to Stogumber station and decided that that would do just as well. Arriving at Stogumber I was able to park in the station car park and once I'd paid for my platform ticket and souvenir booklet I set up the trusty tripod and waited.
In due time the Scotsman appeared and the video camera was started and left to do its thing while I fired away with the DSLR. Weather wise it was a much better day than the previous one and I spent the whole day at Stogumber chatting to the friendly station staff and sitting in the nice picnic area in-between trains.
This video is the result of my two days on the WSR.
Some of the photographs I took over the two days can be found on my website here.